SEMINAR NASIONAL INNOVATION, ENVIRONMENT AND SUSTAINABILITY CHALLENGES IN MINING SECTOR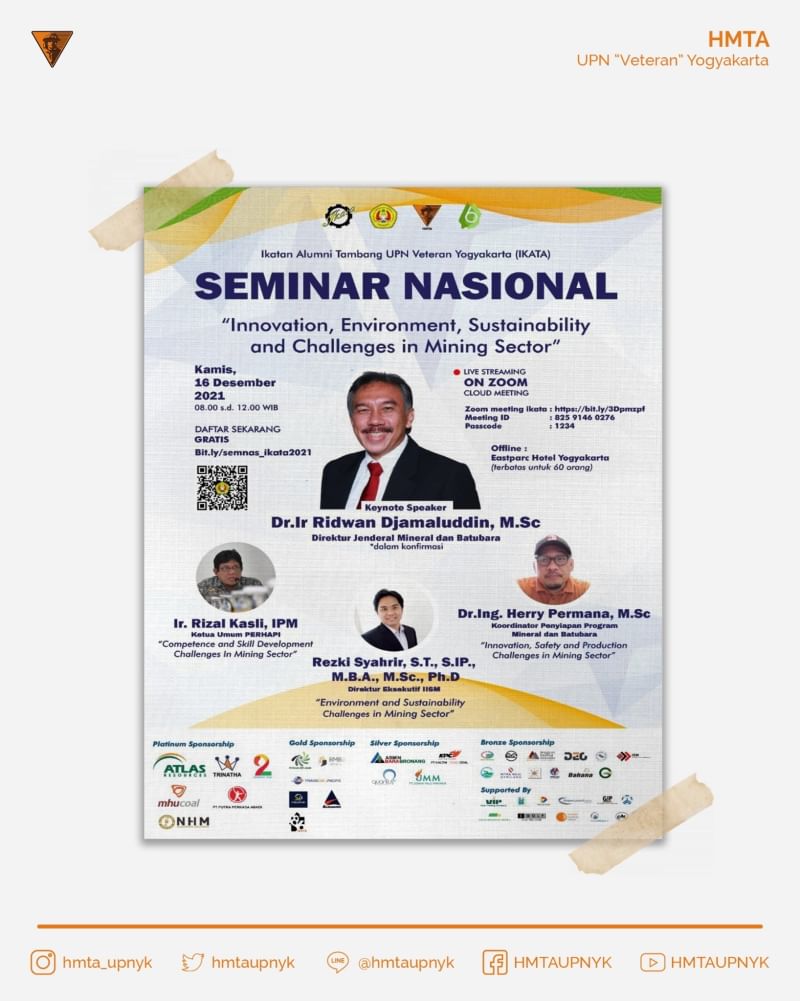 Dalam rangka pelaksanaan Musyawarah Nasional Ikatan Alumni Teknik Pertambangan UPN Veteran Yogyakarta yang ke VI (MUNAS IKATA VI), dilenggarakan Seminar Nasional dengan judul "Innovation, Environtment and Sustainability Challenges in Mining Sector".

Acara ini akan dilaksanakan pada :
Hari/Tanggal : Kamis/16 Desember 2021
Pukul : 08.00-12.00 WIB
Tempat : Secara daring via Zoom Meetings dan offline di Hotel Eastparc Hotel Yogyakarta (Terbatas untuk 60 seat)

Adapun narasumber yang akan mengisi webinar nasional yaitu:

Keynote Speaker:
Dr. Ir. Ridwan Djamaluddin, M.Sc
(Direktur Jenderal Mineral dan Batubara)

Narasumber:
Ir. Rizal Kasli, IPM
(Ketua Umum Perhimpunan Ahli Pertambangan Indoensia
Topik : Competence and Skill Development Challenges In Mining Sector

Dr. Ing. Herry Permana, ST. M.Sc
Koordinator Penyiapan Program Mineral dan Batubara/ Analis Kebijakan Madya
Topik : Innovation, Safety and Production Challenges In Mining Sector

Rizki Syahrir, ST, S.IP, MA, P.hD
Direktur Eksekutif Indonesian Initiative For Sustainable Mining
Topik : Environtment, Sustainability Challenges In Mining Sector

Zoom Meetings : https://bit.ly/3Dpmzpf
Meeting ID : 825 9146 0276
Passcode : 1234

Pendaftaran dapat dilakukan melalui link dibawah :
bit.ly/semnas_ikata2021

CP : 081328077800 (Maulana), 0822 44963402 (Khafid)

Acara ini terlaksana atas kerjasama Teknik Pertambangan UPN Veteran dengan Ikatan Alumni Teknik Pertambangan UPN Yogyakarta

Viva Tambang !!!